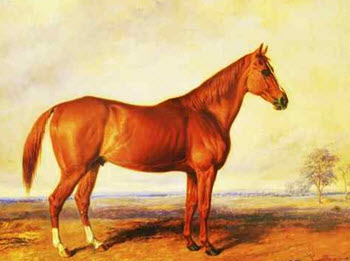 Boston was a famous Thoroughbred racehorses that lived 1833 – 1850. Out of the approximately 45 races he started in, he won 40. During his most illustrious winning streak, he was victorious in 15 races in a row.
As a highly successful breeding stallion, Boston was the Leading sire in North America three times from 1841 to 1843.
By 1849, Boston's health had deteriorated severely and he had become blind and emaciated from illness. On January 31, 1850, he was found dead in his stall.
When the The National Museum of Racing and Hall of Fame was founded in New York in the 1950s, Boston was one of the initial inductees.
Short facts about Boston
Foaled

1833

Sex

Stallion

Country

United States

Colour

Chestnut

Sire

Timoleon

Grandsire

Sir Archy

Dam

Sister to Tuckahoe

Damsire

Ball's Florizel

Breeder

John Wickham

Owner

Nathaniel Rives
Col. William R. Johnson & James Long

Trainer

Capt. John Blecher
Arthur Taylor

Earnings
51,700 USD
Record
45: 40-2-1
Awards
1955  Hall of Fame inductee
Background
Boston was foaled in Richmond, Virginia in 1833. His breeder was a Virginian attorney named John Wickham, chiefly famous for his role as Aaron Burr's counsel in the treason trial.
Boston was chestnut colored with a white blaze on his nose. Originally named after a popular card game, he subsequently got the nickname "Old Whitenose".
Boston's sire was a highly accomplished racehorse named Timoleon, who in turn hailed from the great Sir Archy. Boston's dam was named Sister to Tuckahoe, and her sire was Ball's Florizel.
Boston was inbred to Diomed in the third generation (3m x 3f). Diomed, foaled in 1777, was an English Thoroughbred race horse who won the inaugural running of The Derby in 1780 and went on to become a prominent breeding stallion in the United States.
Boston was also a half-brother to Shylock, a famous breeding mare.
Pedigree
Sire:
Timoleon
ch. 1813/1814

Sir Archy
br. 1805
Diomed
Florizel
Sister to Juno
Castianira
Rockingham
Tabitha
Saltram mare
br. 1801
Saltram
Eclipse
Virago
Wildair mare
Symmes' Wildair
Driver mare

Dam:
Sister to Tuckahoe
ch. 1814

Ball's Florizel
ch. 1801
Diomed
Florizel
Sister to Juno
Shark mare
Shark
Eclipse mare
Alderman mare
b. 1799
Alderman
Pot-8-Os
Lady Bolingbroke
Clockfast mare
Clockfast
Wildair mare
Wickham gambles away Boston
When Boston was a two-year-old, his ownership was transferred to John Wickham's friend Nathaniel Rives of Richmond to settle an $800 card game debt.
Boston – strong willed and formidable
Training Boston proved difficult since he was of a wilful temperament. He was sent to the stable of John Belcher, and then to the trainer L. White, and then back to Belcher again. White famously proclaimed that "The horse should either be castrated or shot – preferably the latter".
But Boston wasn't shot. Instead, he was entered into a race in Richmond, Virginia on April 20, 1836. His opponent was a colt owned by White. Boston completely ran away with the race, gained a huge lead, and then stopped and sulked.
Clearly, Boston had potential as a racehorse.
Boston's racing career
Boston raced around 45 times throughout his long career, and won 40 of his starts. Of those 40 victories, 30 were four-mile heats and 9 were three-mile heats.
Boston, who continued to race until he was a ten-year-old, traveled around the United States and showed off his skills at many different localities. Special racecourses in the modern sense of the world wasn't commonplace in the U.S. back then; instead Boston would usually race other horses across open country.
Eventually, Boston became such as renowned racehorse that race organizers would sometimes pay his owner not to let Boston participate in a race, since Boston's presence tended to scare other race horse owners from entering their horses. By then, his owner wasn't Nathaniel Rives but Colonel W. R. Johnson – a man known as "Napoleon of the Tuft".
Boston as a breeding stallion
Boston started work as a breeding stallion even before his racing career was over. (As mentioned above, Boston continued to race until he was a ten-year-old.)
At first, he stood in Hanover Country, Virginia, then in Washington D.C and then finally in Woodford County, Kentucky. It was in Woodford County that breeding him with mares of superb quality really started, and this helped him become the leading sire in 1841, 1842 and 1843.
Boston wasn't just a sire of gallop horses; he produced a lot of successful trotters as well.
Examples of Boston's progeny
Name
Info
Ringgold
Successful galloper

Sire of Tipperary, who was to become the sire of Belmont Stakes winner Calvin

Commodore
Successful sire
Lexington
One of Boston's most successful sons. He was foaled in the spring of 1850, when Boston was already dead.

Lexington was the leading sire in the United States for 16 years. He maintained his sire-line through Norfolk 1861—Emperor Of Norfolk 1885—Americus 1892 to Golden Rod (GB) 1906.

Lexington's progeny achieved a record 7 Triple Crowns and 9 Travers Stakes victories.

Lecomte
Just like Lexington, Lecomte was foaled in the spring of 1850 and became one of Boston's most successful sons.