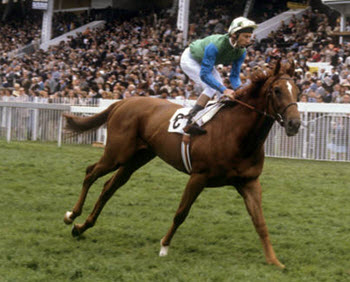 Godetia was a Virginia-bred Thoroughbred racehorse chiefly famous for winning two Irish Classic Races in 1979. That year, she was unbeaten in four races in Ireland, winning the Athasi Stakes, Irish 1000 Guineas, Pretty Polly Stakes and Irish Oaks.
As a broodmare, Godetia produced eight foals of which four became minor winners.
Godetia died in 1994, when she was 18 years old.
Short facts about Godetia
Foaled

April 14, 1976

Sex

Mare

Color

Chestnut

Country

United States

Breeder

Whitney Stone

Sire

Sir Ivor

Grandsire

Sir Gaylord

Dam

Native Glitter

Damsire

Native Dancer

Owner

Robert Sangster
George W. Strawbridge, Jr.

Trainer

Vincent O'Brien
Jonathan Sheppard
Major wins
Athasi Stakes (1979)
Irish 1000 Guineas (1979)
Pretty Polly Stakes (1979)
Irish Oaks (1979)
Awards
Timeform rating 108 p (1978), 119 (1979)
Top-rated Irish three-year-old filly (1979)
Background
Godetia was bred in Virginia by Whitney Stone. Born in April 1976, her sire was Sir Ivor and her dam Native Glitter. Godetia was chestnut colored, sporting two white socks and with a forehead adorned with a diamond-shaped white star.
Sir Ivor was an American-bred but European-trained colt who had won both The Derby (Epsom) and the Washington D C International in 1968. As a breeding stallion, he fathered winners such as Cloonlara, Ivanjica and Bates Motel.
Native Glitter had only won one major race, but was still a sought after breeding mare due to being the full-sister of Gazelle Handicap winner Shimmy Dancer.
Pedigree of Godetia
Sire:

Sir Ivor

(USA)

1965

Sir Gaylord

(USA)
1959

Turn-To
Royal Charger
Source Sucree
Somethingroyal
Princequillo
Imperatrice

Attica

(USA)
1953

Mr. Trouble
Mahmoud
Motto
Athenia
Pharamond
Salaminia

Dam:

Native Glitter

(USA)

1966

Native Dancer

(USA)
1950

Polynesian
Unbreakable
Black Polly
Geisha
Discovery
Miyako

Shimmer

(USA)
1945

Flares
Gallant Fox
Flambino
Broad Ripple
Stimulus
Hocus Pocus
Godetia is bought
Godetia was purchased by the Irish trainer Vincent O'Brien and his associates in 1977. The price was 60,000 USD, making Godetia the least costly yearling of the 17 ones bought by O'Brien et al in the United States that year. O'Brien had previously trained Sir Ivor, Godetia's sire.
Godetia moves to Ireland
After being purchased, Godetia was moved from the United States to Ireland, were O'Brien trained her at Ballydoyle in County Tipperary.
She raced in the colors of Robert Sangster, a British businessman. For most of her races in Europe, Lester Piggott was her rider.
1978: Godetia's two-year-old season
Gilltown Stud Stakes at the Curragh Racecourse
Godetia's very first race was the Gilltown Stud Stakes at Curragh Racecourse in September 1978. She started as a 20/1 outsider in this seven furlongs maiden race, and Vincent Rossiter – not one of the stable's most illustrious jockeys at the time – was selected to ride her. In the final quarter mile, Godetia showed her excellent form by challenging for the lead. She didn't win the race, but she did come in second out of a total of 18 horses. (Her stablemate Kalamaika won.)
Phoenix Park Racecourse
Ten days after her race at Curragh, Godetia started 1/2 favorite for a maiden over seven furlongs at Phoenix Park Racecourse. In the last two furlongs, she left her opponents behind and won by an amazing twelve lenghts.
1979: Godetia's three-year-old season
Athasi Stakes
The Athasi Stakes over seven furlongs was Godetia's first race as a three-year-old, and she won this contest with a margin of two and half lenghts to Icancan.
Irish 1,000 Guineas at Curragh
In May, Godetia was the 4/6 favorite for the Irish 1,000 Guineas at the Curragh.
In the race, her rider Lester Piggott tracked her across the course to race her on the stands side, and this turned out to be a great choice. In the closing stage, Godetia successfully outpaced several challengers and she eventually won the race with a two lenghts + one head margin.
Oaks Stakes at Epsom Downs Racecourse
In June, Godetia travelled to England to participate in the Oaks Stakes (one and a half mile on soft ground) at Epsom Downs Racecourse. Prior to the race, she was the second favorite, but in the race she performed poorly. Half way into the race she dropped from contention, and she eventually came in as #9 of the 14 participants.
Pretty Polly Stakes at the Curragh
Back in Ireland again, Godetia regain her form and won the ten furlong Pretty Polly Stakes at the Curragh with a six lenghts margin to Fair Davinia who came in second.
Irish Oaks
In July, Godetia started as 6/4 favourite in the Irish Oaks. Piggott sent her to the front very early in the race, brought the pace up at half way, slowed down on the final turn, and then encouraged her to go full speed to the finnish line. Godetia won the race with a one lenght margin to Producer.
Yorkshire Oaks at York Racecourse
After her success in the Irish Oaks, Godetia was sent to England in August to participate in the Yorkshire Oaks – but once again racing outside Ireland proved difficult for her. In this one and a half mile race she was overtaken three furlongs out and soon lost her stamina. Piggott decided to ease her down and she came in last of the five runners.
Before the race, Godetia had been sold to George W. Strawbridge Jr in the U.S. for a reported 1 million USD.
1980: Godetia's four-year-old season
Godetia's new owner moved her to the USA where is was trained by Jonathan Sheppard and raced in the colours of Strawbridge's Augustin Stables.
Godetia never developed the same good form in America as the one she had displayed in Ireland. She did three races on American soil and was severally defeated in all of them. (Sixt place in an allowance race at Meadowlands, fifth place in the Grade III Chrysanthemum Handicap at Laurel Park, and ninth place in another allowance race at Meadowlands.)
Assessment and awards
1978: Rated 106p by the Timeform organization. (The p indicates that a horse is believed to be capabable of making significantly more than normal improvment.)
1979: Rated 119 by Timeform
1979: For the official Irish Handicap, Godetia was rated level with Kilijaro as the best three-year-old filly.
1979: Rated eight-best filly of her generation in Europe by The International Classification.
Godetia as a broodmare
Name of the foal
Year foaled
Description
Sired by
Results
Castle Creek
1984
Chestnut filly
Sharpen Up
Won 2 of 7 races
Norquay
1985
Colt
Arctic Tern
No wins
Blue Mandolin
1986
Chestnut filly
The Minstrel
Won 1 of 10 races
Shout and Sing
1987
Colt
The Minstrel
Won 1 (The Warren Stakes at Epsom) of 6 races
Ministra
1988
Chestnut filly
Deputy Minister
Never raced
River Delta
1990
Bay filly
Riverman
Won 1 of 1 races
Marshall Ney
1991
Bay colt

(later gelded)

Danzig Connection
Won 0 of 10 races
Fantasy Flyer
1992
Bay filly
Lear Fan
Never raced