Sir Archy (also known as Sir Archie) was a Virginia-bred Thoroughbred that lived from 1805 to 1833. He was one of the best racehorses of this time and later became an important sire of Thoroughbreds. When the National Museum of Racing and Hall of Fame opened in the 1950s, Sir Archy was among the first horses to be inducted.
His record on the racetrack was 7 starts, with 4 victories and 1 second place.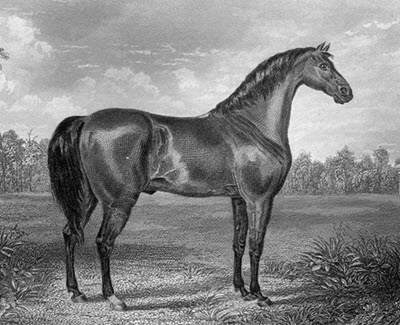 Sir Archy wasn't retired to stud because he had become unsuccessful at the racetrack; he was retired from racing because no horse owners were willing to race their horses against him. As a stud, he was so influential that he is now regarded as the "Godolphin Arabian of America", i.e. his influence on the North American Thoroughbreds has been as major as Godolphin Arabian's influence on the European Thoroughbreds.
Inbreeding to Sir Archy and his sire Diomed became quite common among racehorse breeders in the United States in the 1810s and 1820s, and Sir Archy was frequently bred not just to his own daughters but also to Diomed's daughters. This type of inbreeding comes with genetic risks, but in the case of Diomed and Sir Archy, it turned out to be a very successful method for producing winning racehorses.
Throughout the 1820s, the fastest racehorses in North America were all descendants of Sir Archy, and they were so successful that most owners of racehorses not descending from Sir Archy simply refused to race. In 1827, the Washington DC Jockey Club and the Maryland Jockey Club imposed limitations on which horses that could participate in their races. The new regulation was quite complex, but in essence, it disallowed any horse sired by Sir Archy from competing in these races.
"Before nor since, nothing has been known in America
to equal the manner in which the Archys dominated both turf and stud for over half a century,
beginning with the debut of his first crop of foals, in 1814
and culminating with the last of the sixteen seasons of premiership of his inbred great-grandson Lexington in 1878."
– John Hervey, racehorse historian
Short facts about Sir Archy
| | |
| --- | --- |
| Foaled | 1805 |
| Sex | Stallion |
| Colour | Dark Bay |
| Country | USA |
| | |
| --- | --- |
| Sire | Diomed (GB) |
| Grandsire | Florizel (GB) |
| Dam | Castianira (GB) |
| Damsire | Rockingham (GB) |
Breeder

Capt. Archibald Randolph
Col. John Tayloe III

Owner
Ralph Wormely VI
Col. William R. Johnson
Gen. William R. Davie
Trainer
Thomas Larkin
Arthur Taylor
| | |
| --- | --- |
| Record | 7: 4–1–0 |
| Earnings | Unknown |
Major wins
Post Stakes > (1809)
Jockey Club Purse, Fairfield (1809)
Jockey Club Purse, Petersburg (1809)
Match race with the splendid four-miler, Blank (1809)
Honours
U.S. Racing Hall of Fame (1955)
Last updated on December 19, 2007
Background
Sir Archy was bred in Virginia by Captain Archibald Randolph and Colonel John Tayloe III, and foaled on the Ben Lomond Plantation on the James River in Goochland County, Virginia. (This plantation was owned by Capt. Randolp.)
Both the sire and dam had been imported to the United States from Britain.
The sire was Diomed, a racehorse chiefly famous for winning the inaugural Epsom Derby. As an older horse, he was imported to the U.S.
The dam was Castianira and she was blind. John Tayloe III had purchased Castianira in England to become a brood mare at his Mount Airy Farm, but he decided to breed her on shares with his friend Archibald Randolph.
Sir Archy was Castianira's second foal. He was originally named Robert Burns after the Scottish poet, but Tayloe later changed the name of the colt to honor Archibald Randolph.
Sir Archy was a dark bay colt with a small patch of white on his right hind pastern.
Pedigree
Sire
Diomed
1777
Florizel
1786
Herod
Tartar
Cypron
Cygnet Mare
Cygnet
Young Cartouch Mare
Sister to Juno
1763
Spectator
Crab
Partner Mare
Horatia
Blank
Sister One to Steady
Dam
Castianira
1796
Rockingham
1781
Highflyer
Herod
Rachel
Purity
Matchem
Pratt's Old Mare
Tabitha
1782
Trentham
Gowers Sweepstakes
Miss South
Bosphorus Mare
Bosphorus
Forester Mare
Sir Archy was inbred 3s x 4d to Herod. As you can see, Herod appears in the third generation on the sire-side and in the fourth generation on the dam-side.
Sir Archy's racing career
Wormely
At the age of two, Sir Archy was purchased by Ralph Wormely IV, who paid Tayloe and Randolph 400 USD and a filly.
Wormely then decided to quit horse racing, but found no one willing to by Sir Archy from him. The horse remained with Wormely, and was eventually entered into the Washington (D.C.) Sweepstakes late in his three-year-old season. At this point, Sir Archy had grown to be 16 hands high.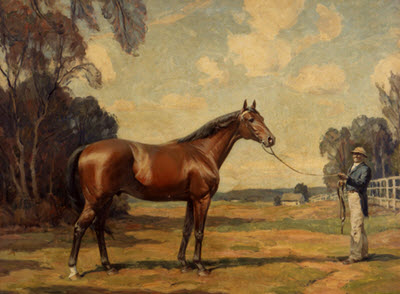 When it was time to race, Sir Archy had still not recovered from a case of equine distemper, a contagious upper respiratory tract infection. Equine distemper causes swelling of the lymph nodes, compressing the pharynx, larynx and trachea of the horse. In some cases, the airway obstruction becomes so severe that the horse suffocates and dies, which is why the colloquial name for the disease is "strangles".
Since Wormely would have to pay a forfeit fee if he withdrew Sir Archy from the race, he decided to make Archy race even though he wasn't in good health.
Still unwell, Sir Archy was forced to make a second start a month later, at the Fairfield Sweepstakes in Richmond, Virginia. He won the third heat and finished third overall, which caught the attention of Colonel William Ransom Johnson who purchased him from Wormely for 1,500 USD.
Johnson
Col. William Johnson left Sir Archy in the hands of his competent trainer Arthur Taylor. With Taylor's guidance, Sir Archy blossomed – especially in four-mile heats.
Johnson himself described Sir Archy as his best horse ever.
"I have only to say that, in my opinion, Sir Archy is the best horse I ever saw, and I well know that I never had any thing to do with one that was at all his equal; and this I will back; for, if any horse in the world, will run against him at any half way ground, four mile heats, according to the rules of racing, you may consider me $5000 with you on him. He was in good condition this fall, (1809) and has not run with any horse that could put him to half speed towards the end of the race."
Sir Archy's last race for Johnson was against a horse named Blank, and Sir Archy won the first heat with the impressive time 7:53. After this race, Sir Archy was purchased by the North Carolina governor, General William Richardson Davie.
Sir Archy becomes a breeding stallion
When no other horse owners were willing to race their horses against Sir Archy, General Davie started utilizing him as a breeding stallion instead, and Sir Archy became one of the first great Thoroughbred sires bred in the United States.
After his time with Gen. Davie, Sir Archy was kept in the Davie family and used as a breeding stallion by Gen. Davie's son, who appears to have stood the stallion in Virginia for a couple of years. Then, Sir Archy was purchased by William Amias, who would keep him for 17 years at his plantation Mowfield in North Carolina. Even at 24 years of age, Sir Archy's stud fee was an impressive 100 USD. According to William Amias's son, Sir Archy earned approximately 76,000 USD in stud fees during his stay at Mowfield.
Throughout his life, Sir Archie sired over 30 racing champions, greatly influencing the North American thoroughbreds. Through his son Copperbottom, he is also an influential sire for the American Quarter Horse.
Examples of notable Sir Archie offspring
Name
Foaled
Info
Lady Lightfoot
1812
In her first try, she ran the fastest heats in Maryland (at the time).

She was 11 years old when she did her last races.

Records are incomplete, but she is believed to have won somewhere between 30 and 40 races in her lifetime.

One of her most illustrious offspring was Black Maria.

Reality
1813
This filly was rated at least as good as her sire by William R. Johnson.
Timoloen
1814
One of the best race horses in the U.S. in his time

Sire of the legendary Boston

Sir Charles
1816
National leading sire in 1830-1833 and in 1836
Sumpter
1818
Won eight consecutive races

Became an important brooadmare sire

Stockholder
1819
Most popular sire in Tennessee in his time.

Sire of several important brooadmares

Henry
1819

The only horse to ever defeat American Eclipse.

Influential sire

Sally Hope
1822
Raced 27 times, won 22 times (18 of the victories were in succession)
Bertrand
1826
Sometimes referred to as Sir Archie's best offspring

Influential sire

Flirtilla
1828
Sir Archy retires from his stud career
Sir Archy retired from his stud career in 1831, when he was 26 years old.
He died on June 7, 1833. On that same day, one of his most famous sons – Sir Charles – also died.
Where is Sir Archy buried?
Two different localities claim to be the burial place of Sir Archie.
Claim 1: Mowfield Plantation
According to this claim, Sir Archy is buried as the Mowfield Plantation, the plantation in Northampton County, North Carolina, where he lived from 1818 to his death in 1833. The exact location of the burial place is unknown.
Claim 2: Ben Lomond Farm
According to this claim, Sir Archy is buried at the farm where he was born, the Ben Lomond Farm in Goochland, Virginia.
This claim was supported by the Goochland County Historical Society, which – in 1972 – erected a historical marker here to mark the grave. The grave marker is found in the southeast corner of a field at the top of the farm acreage.